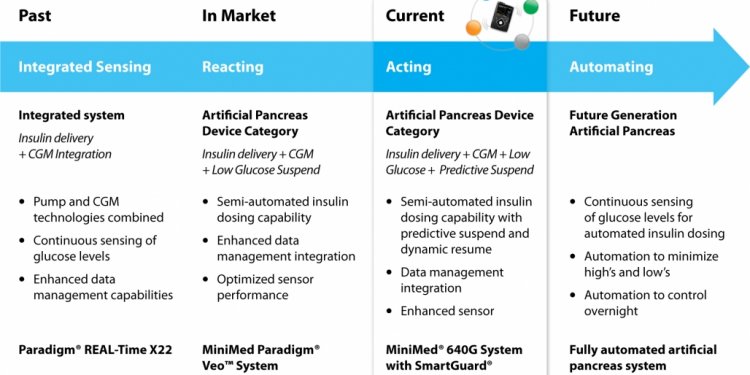 What is closed loop system?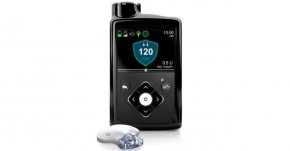 I have wonderful news to share with you today. I am extremely proud to announce that the FDA has just approved our groundbreaking MiniMed 670G system – the first hybrid closed loop system in the world!
This approval is a significant milestone in the history of diabetes management, and a culmination of many years of dedicated work. With this approval, we are one step closer to delivering a fully automated closed loop system.
Advanced SmartGuard Technology
The MiniMed 670G system features our most advanced algorithm to date – SmartGuard HCL – which simplifies and improves diabetes management through a smart algorithm that enables greater glucose control with reduced user input. Through SmartGuard HCL, the system builds on Medtronic's industry leading algorithms to offer therapy customization so people with diabetes and providers can choose from increasing levels of automation that best fit their diabetes management needs.
Driven by the SmartGuard HCL, the system delivers a variable rate of insulin 24 hours a day based on the personalized needs of the individual, maximizing the time glucose levels are within the target range. It is designed to learn what an individual's insulin needs are and to take action to minimize both high and low glucose levels. As a result, the system requires minimal input – users only need to enter mealtime carbohydrates, accept bolus correction recommendations, and periodically calibrate the sensor.
New Guardian Sensor
The system uses our new Guardian Sensor 3, our most advanced and accurate glucose sensor. The sensor offers seven-day continuous wear and incorporates diagnostic technology that continuously monitors how the sensor is doing, resulting in a CGM system trusted to power the hybrid closed loop system. It is also the first and only sensor approved by the FDA to control a hybrid closed loop system.
A Spring 2017 Arrival
The combination of compelling data from our pivotal trial and strong partnership with the FDA aided our efforts at speedy approval. Given the earlier-than-anticipated approval and the novel nature of the technology, we plan to begin shipping the MiniMed 670G system in spring of 2017. This timeline ensures market and manufacturing readiness, payer coverage, and appropriate training of our employees, clinicians, educators, and customers on the new system.
Get Priority Access

Customers who want to be first in line to receive the new system can check out the Priority Pathway Program. Anyone who purchases a MiniMed 630G system between August 11, 2016 and when we ship the MiniMed 670G system will be eligible to upgrade to the new system for $299. This is a great way for customers to experience our new pump platform via the MiniMed 630G system – and be first in line once we ship the new system.
With the approval of this life-changing therapy, we are truly transforming diabetes care, and providing greater freedom and better health to people with diabetes.
IMPORTANT SAFETY INFORMATION
The Medtronic MiniMed 670G system is intended for continuous delivery of basal insulin (at user selectable rates) and administration of insulin boluses (in user selectable amounts) for the management of Type 1 diabetes mellitus in persons, fourteen years of age and older, requiring insulin as well as for the continuous monitoring and trending of glucose levels in the fluid under the skin. The MiniMed 670G System includes SmartGuard HCL technology, which can be programmed to automatically adjust delivery of basal insulin based on Continuous Glucose Monitor sensor glucose values, and can suspend delivery of insulin when the sensor glucose value falls below or is predicted to fall below predefined threshold values.
The Medtronic MiniMed 670G system consists of the following devices: MiniMed 670G insulin pump, the Guardian Link (3) transmitter, the Guardian Sensor (3), One-Press Serter, and the Contour NEXT Link 2.4 glucose meter. The system requires a prescription.
The Guardian Sensor (3) glucose values are not intended to be used directly for making therapy adjustments, but rather to provide an indication of when a fingerstick may be required. All therapy adjustments should be based on measurements obtained using a home blood glucose monitor and not on values provided by the Guardian Sensor (3).
WARNING: Medtronic performed an evaluation of the MiniMed 670G system and determined that it may not be safe for use in children under the age of 7 because of the way that the system is designed and the daily insulin requirements. Therefore this device should not be used in anyone under the age of 7 years old. This device should also not be used in patients who require less than a total daily insulin dose of 8 units per day because the device requires a minimum of 8 units per day to operate safely.
WARNING: Do not use Auto Mode for a period of time after giving a manual injection of insulin by syringe or pen. Manual injections are not accounted for in Auto Mode. Therefore, Auto Mode could deliver too much insulin. Too much insulin may cause hypoglycemia. Consult with your healthcare professional for how long you need to wait after a manual injection of insulin before you resume Auto Mode.
The MiniMed 670G system is not approved for use in pregnant women and patients with impaired kidney function. For complete warnings, precautions, and contraindications, please consult the User Guide.
Tags: automation, continuous glucose monitor, Guardian sensor, hybrid closed loop, insulin pump, MiniMed 670G system, SmartGuard technology
Share this article
Related Posts