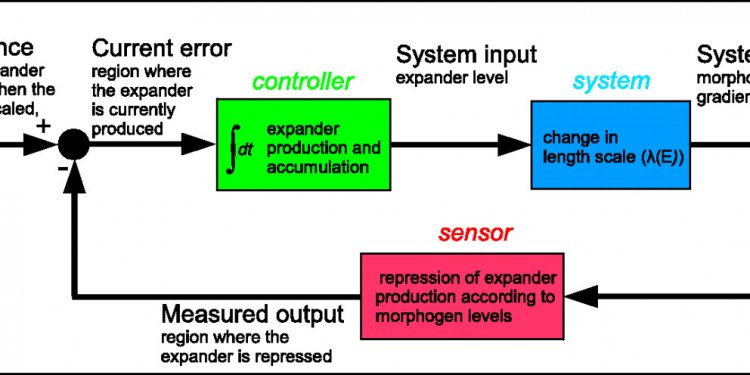 Feedback control
More About Leptin Feedback Control System
Demonstrates how changes in the amount of fat tissue lead to changes in leptin levels and thus changes in appetite.
Leptin is a hormone that is produced by fat tissue found throughout the body. The amount of leptin produced is proportional to the amount of fat tissue. If someone reduces their caloric intake, their fat tissue will decrease, and the leptin signal will also decrease. This decreased signal reaches an area of the brain called the hypothalamus. The hypothalamus responds to the reduced signal by increasing the desire to eat. Once the amount of fat tissue is back to the usual level, the amount of feeding also returns to the usual level. Likewise, if someone increases their caloric intake, their fat tissue increases, as does the amount of leptin signal reaching the hypothalamus. This increased signal to the hypothalamus results in a decreased desire to eat. This eventually returns the amount of fat tissue to the usual level, which in turn returns feeding to the usual level.
From Lecture One of the 2004 Holiday Lectures Series "The Science of Fat."
Leptin Feedback Control System Teaching Tips
Use the animations to make abstract scientific ideas visible and concrete.
Explain important scientific principles through the animations. For example, the biological clocks animations can be used to demonstrate the fundamentals of transcription and translation.
Make sure that students learn the material by repeating sections of the animations as often as you think necessary to reinforce underlying scientific principles. You can start, restart, and play back sections of the animations.
Urge students to use the animations in accordance with their own learning styles. Students who are more visually oriented can watch the animations first and read the text later, while others might prefer to read the explanations first and then view the graphics.
Incorporate the animations into Web-based learning modules that you create to supplement your classroom curricula.
Encourage students to incorporate the animations into their own Web-based projects.
Resources
Share this article
Related Posts