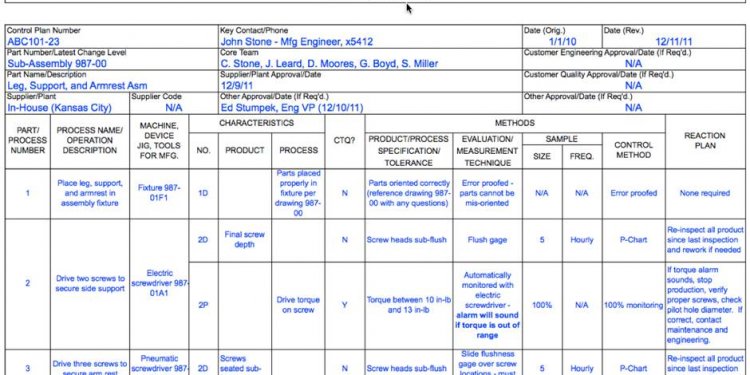 Quality control system example
Even if a company isn't concerned about producing a world-class product, quality still needs to be a primary goal. In this lesson, you'll learn about quality management systems - what they are, how they work, and why they are so important.
What Is Quality?
Quality, defined as superiority in kind, doesn't just happen. Think of a company that you believe is a good example of quality. Perhaps it is Toyota in the automobile industry, or maybe Apple and its consumer products. Few watches are as mechanically sound as Rolexes, and Armani makes one of the best suits money can buy.
Each of these organizations has become known for the quality of its products, but each had to work very hard to get that reputation and has to continue to work hard to maintain it. Organizations don't achieve quality simply by stating it as a core value; successful organizations go through a thoughtful and meaningful process to identify and improve their quality management system. A quality management system is the totality of organizational processes, people, internal controls, resources, and goals focused on producing a given output that meets defined specifications.
Examples
A quality management system can be home grown, meaning that an organization defines and documents all the necessary components of a quality management system without basing it on any model or framework. In fact, while most organizations do rely on one of the many quality management models, the most successful companies are those that adapt the model and make it uniquely theirs.
Popular quality management models or frameworks include ISO 9001, Six Sigma, and Total Quality Management (or TQM) . Each of these serve as a framework that organizations can use as a guide to design their own system. Some, like ISO 9001, are more prescriptive than others, like TQM, but each has been used successfully by many companies to improve the quality of their processes and products.
Key Components
While each quality management system will be unique to the industry and organization, there are key components that should be included, to some extent. First, quality needs to be defined. Because a quality management system is intended to ensure a desired output, quality must be defined in terms of that output.
For example, for the purposes of quality management, customer satisfaction is not a good measure of quality because customer satisfaction can be impacted by considerations outside the quality management system. Product specifications, such as 'each fishing pole should be six feet long and weigh 5.5 ounces' do make good definitions of quality because they can be measured, and they are impacted directly by the quality management system.
Unlock Content
Over 30, 000 lessons in all major subjects
Get FREE access for 5 days,
just create an account.
Start a FREE trial
No obligation, cancel anytime.
Want to learn more?
Share this article
Related Posts