Industrial Air Pollution Control Systems
Epcon offers several pollution control oxidizer products to reduce NOx emissions for industries such as power generation, cement plants, oil and gas, chemical, HRSG, diesel exhaust and others. We design SCR housing, catalyst housing, ammonia-flow control units (AFCUs), ammonia distribution, ammonia evaporation and ammonia spray grid (AIG).
Epcon designs pollution control oxidizers and performs engineering studies, and acceptance and performance tests to ensure maximum NOx reduction at minimum costs for new and retrofit situations. We work with reputable catalyst manufacturers throughout the world to build complete systems for NOx reduction with ammonia or urea, simultaneously reducing CO and VOCs.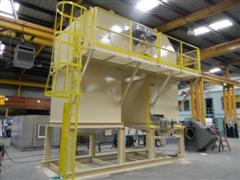 Since the beginning, Epcon has been in the forefront of developing new technologies. Sometimes the innovation created by Epcon's ingenuity has merited the designation of a specific patent. In other cases, cutting edge technologies were not quite patentable; as other industry leaders in research & development were active in their own original designs, as competition for patents is fierce.
Epcon can provide you with a Thermal Oxidizer that is specially designed for your process application. Careful consideration is given to combine high quality designs and fabrication while focusing on reliability and ease of operation. Depending on your process requirements, energy saving options may also be available. Energy saving options may include the use of preheated combustion air, a secondary heat exchanger and sophisticated burner controls. Epcon will work closely with you to understand the link between initial capital investment and the expected operating costs.
Despite the competition, several patents secured by Epcon's skilled and creative engineering team on innovations have been applied to technologies especially critical in helping to preserve our environment. Among these patented innovations are the Epcon Pipe Burnout Oven with Pollution Control, Epcon's Air Pollution Control and Heat Recovery System for Industrial Ovens, the Epcon Pyrocleaning Furnace and Thermal Oxidizer System, The Epcon Drying Oven with Heat Reclamation and Air Pollution Control System, and Epcon's innovative method for Pyrocleaning Metal Components - a task that had proven considerably more arduous with more traditional methods. All in all, the Epcon heritage is a proud legacy of proven creativity. Contact Us today to learn more about how our Air Pollution Control equipment and environmental technology can help you.
Share this article
Related Posts