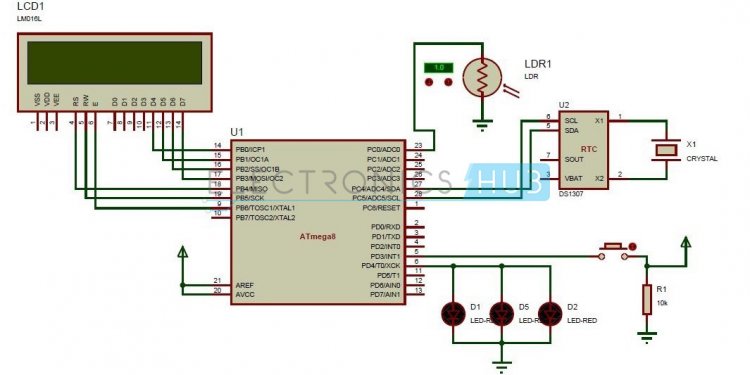 Street lighting control system project
Automatic street lights on & off using light dependent resistor
Aim of this project is to control the street light using LDR. When the light fallingoccur means resistance value will be change. There is no light then the resistance value ischange. From this resistance change the voltage variation can be obtained this value isgiven to ADC of PIC. PIC is stand for peripheral interface controller.
1.1.1 SCOPE OF THE PROJECT:
The main scope of the project is to learn the pic microcontroller, using 10BITADC serial communication, interfacing the 16x2 LCD module, and effective use of theMIKROC IDE.
1.1.2 OVERVIEW:
Gives brief introduction on the project.
Discuss different modules of the project.
Discuss about PIC microcontroller.
Discuss about the Hardware.
1.2 LIGHT DEPENDENT RESISTOR
LDRs or Light Dependent Resistors are very useful especially in light/dark sensor circuits. Normally the resistance of an LDR is very high, sometimes as high as 1000000ohms, but when they are illuminated with light resistance drops dramatically. Electroniconto sensors are the devices that alter their electrical characteristics, in the presences of visible or invisible light. The best-known devices of this type are the light dependentresistor (LDR), the photo diode and the phototransistors.Light dependent resistor as the name suggests depends on light for the variation of resistance.
Share this article
Related Posts