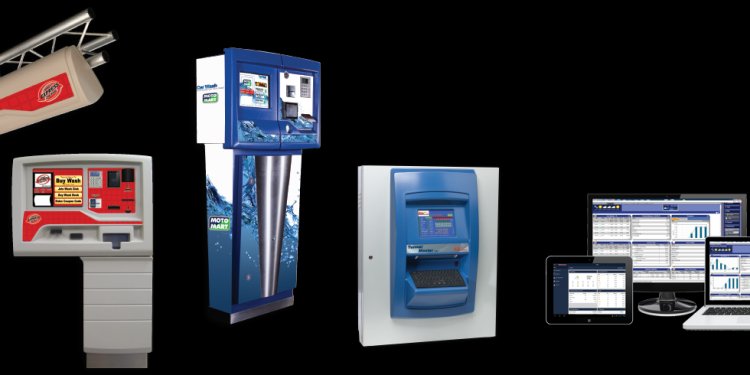 Innovative control Systems Inc
After thoroughly considering the options, we decided on the Auto Sentry...
After thoroughly considering the options, we decided on the Auto Sentry Express Pay Station for a dedicated express exterior lane at our existing full-Service carwash. The customer response has been overwhelmingly positive, and we've increased volume and improved the bottom line while maintaining our full service business. With this addition to our facility, we deliver a valuable service option for our loyal customers, while attracting new customers who prefer an express wash.
- Jerry Miller (Past President of the SCWA/Current ICA board of Directors), Jerry's Express
I would never again consider operating a wash without Auto Sentry terminals.
They provide a great customer experience; always greeting the customer happily and consistently up-selling extra services. The Auto Sentry flex with dual bill dispensing and the Auto Passport RFID system with auto-billing is a winning combination for me.
- Steve Bulboff, Deptford Shammy Shine, Deptford NJ
Flex Express
I have been an owner/operator of a full service carwash since 1984. One of the best decisions I made was to install the ICS Auto Sentry and convert to a flex service business model. On busy days, I can wash cars as fast as they arrive, and on slow days, I do not have the large labor burden. The ICS Auto Sentry terminals have been reliable and easy for my customers to learn and use... the system has exceeded my expectations. This is why I would not hesitate to tell another operator to convert.
-Doug Rieck, Manahawkin Magic Wash, Manahawkin NJ
WBC Controller
The WBC has been a great addition for controlling our car wash equipment. By adding the pickup bed sensor we no longer worry about damages from our top washer and dryers. We are actually able to use the WBC to control and manage almost everything on site with the power management features.
-Kevin Hendricks, Marc-1 Car Washes, Birmingham AL
Touch N' Clean
I would say that ICS, more than any other car wash computer company has opened new opportunities for expanded profitable growth to my multi profit site, including tunnel, In-bay automatic and self service bays with all their diversified products. I have 5 TNC bay controllers with the ability to accept credit cards, which have added 15% to my monthly revenue per bay.
-Dennis O'Shaughnessy (Owner), Glenmont Car Wash, Glenmont NY
Support Department
ICS has been awesome and I am so grateful that we chose them to do our first project. From the sales department to the technical support team, it is great to know somebody has your back.
-Jerry Umstead (Owner), Sudz in a Bucket Car Wash, Souderton PA
Auto Passport
Our customers love the club programs. We have multiple sites and they can visit any one of our washes and qualify under the same club program. It really makes it convenient for our clientele. In addition, the guaranteed monthly revenue from recurring monthly billing helps with the cash flow.
-Al Rogers (Manager), Shammy Shine Car Wash, Milford NJ
Marketing Department
I met Cory after purchasing ICS Pay Stations for my carwash. I was extremely fortunate that Cory was the graphic designer selected to do my artwork for the Pay Station screens. This was my first occasion to ever need a graphic designer, so I went into this venture virtually clueless about what it takes to create a unique, attention grabbing screen for my Pay Stations. Having absolutely no artistic ability, I conveyed to Cory, as best I could, the concept of the car wash, just knowing I had failed, miserably, at doing so, to the point I dreaded previewing the files Cory would be sending to me.
Within 2 days, he had emailed me his design and I was absolutely blown away! Not only was his design totally awesome, it far exceeded all expectations I had for a 2.3 million dollar business! I was so impressed with his work that, after a nationally known sign company failed, miserably, at graphic design for my other signage, I contacted Cory and pleaded with him to do all of the graphics for Houndstooth Express Car Wash. Since ICS was just before starting a graphic service, Cory's supervisor agreed to let me be his first customer! Now, all of my signage matches and the theme and color scheme is carried throughout my business. Any entrepreneur knows that aesthetics is as important as the business itself. You see, it didn't matter how much money I had spent building this business because if the public viewed the signage as unprofessional, they would think even less of what they could expect regarding the quality of service we offered.
Share this article
Related Posts