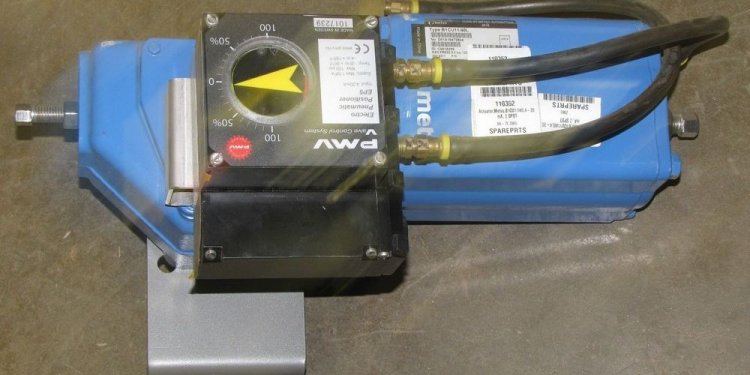 PMV Valve control system


Electric actuator automates ball, butterfly and plug valves, louvers and dampers, and any quarter-turn mechanism. Offers a unique modular design to allow for simple retrofits/upgrades.
Pneumatic rack and pinion valve actuators combined with TopWorx solenoid and switchbox accessories are the premium quality offering for automation of industrial valve applications in process plant. Designed for long life use, incorporating customer input, the body of the cast aluminum actuator provides extra drilled mounting holes for both top and bottom mounted accessories and can be directly mounted to butterfly valves. Actuator recognition at a distance is made easier by way of cast-in size identification. Springs carry a life-time guarantee and maintenance either in-field or in-workshop can be swiftly carried out by way of the patented Safekey quick release end cap facility. Hytork actuators can also be provided with a unique internal and external Commando corrosion protection coating, to combat aggressive corrosive environments.

The Hytork Excel (XL) Series are aluminum rack and pinion actuators meeting ISO, NAMUR, VDI/VDE standards. These heavy duty actuators are available in both double acting and spring return and feature corrosion protection both internally and externally.
Actuator for gate, rising stem gate, rising stem ball and globe valve applications on natural gas pipelines utilizing gas over oil power pressure. Ideal for ESD, linebreak and high thrust requirements.


SH Series Gas-Over-Oil Actuator
For more than 60 years, Shafer actuators have been recognized for their reliable performance in natural gas pipeline service. The SH-Series helical spline gas-over-oil actuator continues the tradition. The double-acting hydraulic model is perfect for a variety of small valve (2"to 8") natural gas pipeline applications
ATI - Global Leader in Customized Valve Automation
Piston actuators are used on all types of rising stem valves including gate valves, globe valves, and rising stem ball valves. ATI offers both pneumatic actuators and hydraulic actuators in the spring return and double acting varieties depending on the failure position specified.

Linear Pneumatic Actuators
The L & HDL Series are piston operated valve actuators that use air pressure or natural gas to provide the force required to open, close and control rising stem valves. The L Series is perfect for control valves. With smooth operation from speeds as slow as .012 inches per second to speeds as fast as 12 inches in less than a second. The HDL Series actuator is ideal for on/off applications.
Linear Hydraulic Actuators
The H & HDH Series are piston operated valve actuators that use hydraulic pressure or high pressure gas to provide the force required to open, close and control rising stem valves. The H Series actuator is ideal for control valves while the HDH Series actuator has been effectively used for on/off applications such as steam blow applications that require very fast opening speeds.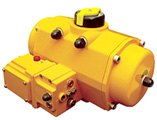 The original leverless limit switches, 10, 20, 30, and 80 Series GO Switches are the ideal replacements for traditional mechanical limit switches. Their sealed contacts, rugged enclosures, no-touch sensing, and snap action response make these switches the ultimate problem solvers for troublesome limit switch applications.
With their all stainless steel construction, flexible AC/DC, NO/NC, and SPDT/DPDT contact configurations, superior corrosion resistance, and global certifications for all hazardous areas, 70 Series GO Switches outperform inductive proximity sensors in the toughest applications.
Westlock Controls - Committed to Delivering More than Top Quality Valve Monitoring & Control Systems for Our Customers
Westlock Controls has built a global reputation providing innovative solutions for networking, monitoring, and controlling process valves. Our focus on technology and supplying reliable products manufactured to the highest industry standards, makes us a preferred choice with the worlds leading process companies and a trusted partner for developing even better solutions in the future.
Accutrak series are fully integrated and encapsulated rotary valve position monitors that are agency certified as non-incendive.
Westlock control and monitoring equipment can be fitted with a variety of switches and sensors to provide the optimum combination and ideal solution for each application.
FIELDVUE DVC6200 and DVC2000 digital valve controllers are HART communication instruments approved for non-incendive, intrinsic safety, flameproof and explosion proof applications. Digital valve controllers work on single- or double-acting actuators. FIELDVUE digital valve controllers provide online valve diagnostics and are a core part of the Emerson PlantWeb digital plant architecture.
- digital valve controllers are HART communicating, microprocessor-based current-to-pneumatic instruments with linkage-less, non-contact travel feedback. Three important functions are performed by the DVC6200 instrument
- Traditional positioning of a control valve by converting the 4-20mA DC input signal from the process controller to a pneumatic output signal to the actuator.
- Automatic calibration and configuration utilizing the power of microprocessor technology.
- Communication capability via the HART communications protocol to provide instrument and valve diagnostic information.

- The operation of many industrial processes involves inherent risk. Instrumented protection systems...


Share this article
Related Posts