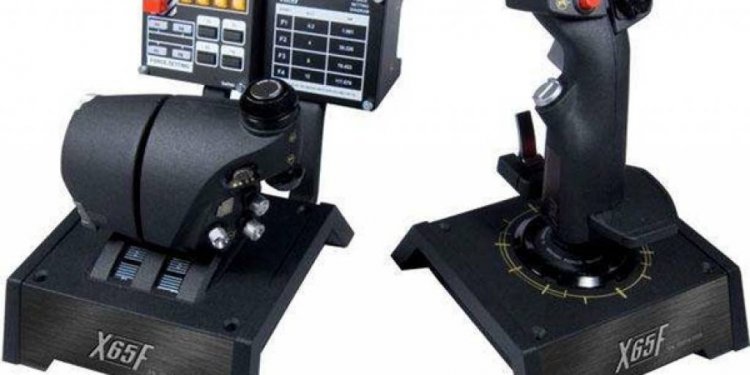 Saitek Pro Flight X-65F Combat Control System
Product Description: Rule the skies with the latest Saitek X series controller - the Saitek Pro Flight X-65F Control System. Custom engineered from high grade metal castings, this is a system that is built to withstand many combat engagements. The number of controls available will cater for any pilot's needs, but the true innovation resides within the stick itself - Force Sensing technology. Click here for the Official X-65F site. What is Force Sensing? In a world first for a manufactured simulation controller, the X-65F's stick does not move; instead, like those found in real modern fighter jets, it responds to pressure that you exert on the handle, resulting in a fast, accurate and realistic response that will make you the ace in your squadron. With no moving parts and a shaft that is made from high grade steel, this provides incredible reliability and longevity. Product Features:- Metal construction for the ultimate in realism and durability. Unique force sensing stick - all input is detected from how hard you push on the stick, just like in real modern day jet fighters. This includes a force-sensing twist rudder control. Features on-the-fly adjustment of the force settings for the stick - including separate adjustments for each axis of the stick for the ultimate in stick response configuration. Dual throttle for finer control over twin engine jets, or lock the two throttles together for single engine fighters. Stick controls include: 3 x 8-way hats; 1 x 8-way thumb hat; 1 x trigger; 2 x buttons; 2 x pinkie switches; Throttle controls include: 2 x rotaries (incorporating push button controls); 1 x mouse hat; 4 x 8-way hats; 1 x 2 way 'K' switch; 1 x scroll selector; 1 x 4 position mode switch
Manufacturer's Description
The world's first force sensing H.O.T.A.S.
Rule the skies with the latest Saitek X series controller – the Pro Flight X-65F Control System. Custom engineered from high grade metal castings, this is a system that is built to withstand many combat engagements. The number of controls available will cater for any pilot's needs, but the true innovation resides within the stick itself – Force Sensing technology.
H.O.T.A.S. Is an acronym for Hands On Throttle and Stick.
Only Saitek flight controllers can meet your exacting standards. Our design team puts in actual hours in the air to understand your needs and to create the controllers which meet them. We use the highest quality materials and engineering techniques so that every movement of a joystick, every button press or throttle adjustment, feels just like it would in a real plane.
If you play flight simulations you value realism, control and reliability above all else. You want your controllers to feel and behave exactly like the real thing so that your flying experiences are even more realistic.
FORCE SENSING
What is Force Sensing?
In a world first for a manufactured simulation controller, the X-65F's stick does not move; instead, like those found in real modern fighter jets, it responds to pressure that you exert on the handle, resulting in a fast, accurate and realistic response that will make you the ace in your squadron. With no moving parts and a shaft that is made from high grade steel, this provides incredible reliability and longevity
Works great with :
Flight Sim X
Flight Sim 2004
X-Plane
Lock on & Lock on: Flaming Cliffs
Falcon 4 Allied Force
DSC Black Shark
IL2 and add on's
Rise of Flight
Combat Flight Sim 3
H.A.W.X.
X-65F Pro Flight Combat Stick
Metal construction for the ultimate in realism and durability
Unique force sensing stick – all input is detected from how hard you push on the stick, just like in real modern day jet fighters. This includes a force-sensing twist rudder control
Features on-the-fly adjustment of the force settings for the stick – including separate adjustments for each axis of the stick for the ultimate in stick response configuration.
3 x 8-way hats
1 x 8-way thumb hat
1 x trigger
2 x buttons
2 x pinkie switches
X-65F PRO FLIGHT COMABT THROTTLE
Dual throttle for finer control over twin engine jets, or lock the two throttles together for single engine fighters
2 x rotaries (incorporating push button controls)
3 x buttons
1 x mouse hat
1 x left mouse button
4 x 8-way hats
1 x 2 way 'K' switch
1 x scroll selector
1 x 4 position mode switch
1 x Throttle Lock
X-65F PRO FLIGHT COMBAT PANEL
Back panel with 5 more control switches, force-sensing strength selection, mode indication and mounting points for Saitek Pro Flight Instrument Panels (sold separately)
4 x control buttons
Share this article
Related Posts